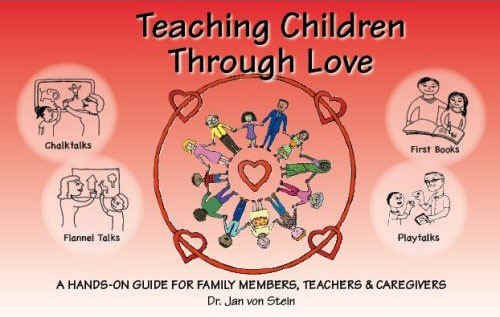 Teaching Children Through Love
Now only $14.00!
Teaching Children Through Love is a hands-on guide for family members, teachers and caregivers. This book answers the question.. What do I do besides reading to the child in my care? The book is filled with simple, recipe-type instructions. These can be the basis for one to one times with the child. The book combines three other short books that were published previously, Chalktalks, Flannel Talk and First Books. It also has a section called Some Recipes For A Happy Summer. This gives the caregiver a springboard of ideas for the days of summer fun. Teaching Children Through Love helps young children to develop a love of learning as well as to develop a bond between the caregiver and child.

Love Notes: "First Books" - $8.00
Love Notes: "First Books" gives parents, grandparents, caregivers, and the community-at-large, a number of fun, "tried and true" techniques that help prepare children to become enthusiastic, able readers. Since we are educators and parents ourselves, we know there are many resources available for young readers. However, what makes our books unique is that we present ideas and concepts that are specifically designed for the toddler / preschooler / kindergarten-aged child. We use a simple, user-friendly approach, initially explaining educational fundamentals and then applying them in innovative and instructional ways. We recommend that caregivers work within the framework of a child's current language ability and experience to write books together, create stories, and continue developing language skills. We have found over the years that this fun, experiential approach fosters creativity, boosts confidence, and engages inquisitive minds. Furthermore, we have found that caregivers who share in the joy of learning to read with their children create life-long memories that everyone treasures.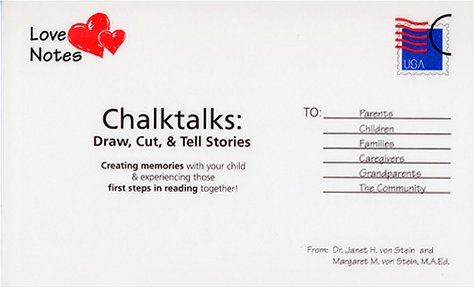 Chalktalks: Draw, Cut, and Tell Stories - $8.00
Briefly, it is an old storytelling technique in which the storyteller draws a sketch or creates a visual aid to go along with the story. The sketch simply may illustrate a point in the story, or it may be more sophisticated and provide the "answer" to a riddle or puzzle. Children are fascinated by this experience. The child often makes many strides in the area of language development by using this technique. Truly, this method gives young people the oral interaction that is not available via the normal computer programs. This type of experience is vital in the development of skills during this crucial stage of development Many types of draw, cut and tell stories are readily available in the book. They are arranged in an easy recipe type approach for the caregiver.